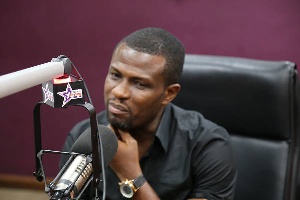 Music Producer Mark Okraku Mantey has disclosed that most likely, he will get married this year (2017).
Speaking with Bola Ray on Starr Chat, the Programs Director at Hitz Fm revealed that he's found a woman in his life and looks forward to marrying soon.

"I'm not married but have three daughters with two women (Jozy and Linda).

"I've a woman in my life now so I look forward to settle down with her this year 2017 hopefully. Now that there's change, I'm sure everything will change." When asked what drives him as a person, Mark said "I love greatness and so I'm not down for whatever. I like it when someone says it can't happen, it's a drive for me.

According to him, he prefers greatness to money because greatness comes with development which inspires a person to go higher.

He noted that his father was against his decision of doing music but he promised his dad he will be one of the top producers in Ghana.
Mantey named his role model as Teddy Riley and says he's still in talks with some people to get him to perform in Ghana one day. Edward Theodore "Teddy" Riley is an American singer-songwriter, musician, keyboardist, and record producer credited with the creation of the new jack swing genre.

Mark Okraku recounted an issue he had with music duo, Akyeame then as the producer of their popular hit song 'Brebre Obaahemaa' saying they betrayed him when they paid the royalty to one Andrew Opoku Amankwa in Kumasi.

"I actually Executively Produced Akyeame's 'Brebre Obaahemaa' but Akyeame paid royalty to one Andrew Opoku Amankwa who had started helping them in Kumasi, so why won't I allow him to take over, but they came back after promoting it to pay for the recording. I was promised a second album as compensation which was 'Masan Aba'. 'Masan Aba' was also another case. I was disappointed to some extent but I loved Akyeame so I've forgiven them because I'm religious and believe in the good book."

Okraku Mantey disclosed that his biggest act in terms of production and sales was Oheneba Kissi, adding that Lord Kenya was never part of the top ten.

"Oheneba Kissi is my top and second, third should be Daasebre Gyamenah but for Lord Kenya, he wasn't even in my top ten."
Touching on reasons why Lord Kenya wasn't his top seller, Mark noted that the culture of buying hiplife was not stimulated at that time though Kenya was popular yet the purchase of his songs was low.

The former manager of highlife singer, Kumi Guitar added that Oheneba Kissi and the Hilifiers were not active on stage so they were not booked to perform but they had the sales.

Speaking about his 'beef' with Sarkodie, he hinted that he's been a loyal fan of the latter but he believes M.anifest's lyrics are deeper.

Rating MUSIGA President, Obour's administration, Okraku Mantey said Bice Osei Kuffour though has done his best yet what was expected of him to do for the young acts and the welfare of the Union hasn't been attended to.

He rated the MUSIGA President three out of ten.
He noted that his favourite Dancehall artiste is Jupitar because Shatta Wale is not doing real dancehall music. Okraku added that though Stonebwoy is doing well yet he is also doing more of Reggae than hardcore Dancehall.

Between Kojo Antwi and Daddy Lumba, Okraku Mantey opted for the latter as the most gifted highlife artist. He said Mr. Music man has disclosed some time ago that his style of music is not highlife genre.

When asked how he wants to be remembered some years to come, the CEO of Slip Music said, "I want to be remembered for sharing a hand for those who needed support to sell their music or their act."

Mark Okraku-Mantey attended Datus Complex Schools (Bubuashie) and continued to St. Augustine College in the Central region. In his school days, he was the first student to be allowed to play as official Disc Jockey for St. Augustine College.