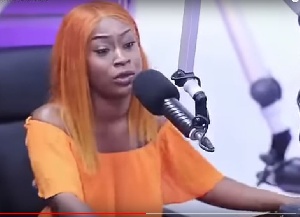 Promising actress, Efia Odo, has disclosed that after the death of the late dancehall artiste, Ebony Reigns, she has now given her life to Christ in the most intense way.
Born Andrea Owusu, Efia Odo revealed in an interview with Jeshurun Okyere on Live FM that she had been in fast cars and several dangerous situations but has come to a realization that it is God that has kept her alive all this while.

She also revealed that two weeks before Ebony's death, she started attending The Maker's House Chapel and decided to be celibate after the preacher spoke against fornication.

She however said she was not as serious as she is after the passing of her dear friend.
"I was no better than Ebony. I was just like her. I live a fun, free, bubbly life. That's how Ebony was. She wasn't a bad person.

"You didn't know the purity of her heart. If you needed her to 'change' maybe if you guys had preached with love, she could have been better.

"People look at people like us and think we're bad and judge us but we're not bad. We're just in the world and we're trying to find our way. We just need guidance. You guys need to bring love to us." She told Jeshurun Okyere.