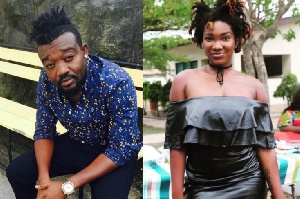 Truth be told, the demise of those we see them as our enemies will give us shock comparably to those who're dear to our heart.
So, no wonder Ebony's manager, Ricky Osei Agyeman aka Bullet has confessed that the untimely demise of Ebony Reigns has crushed his dreams in life.

Speaking to Accra-based Hitz FM, all his managerial dreams have been crushed and it is likely he won't write or produce songs for any artiste in the entertainment industry again.

"I don't know my plans right now because it's very sad and painful to lose someone like her. I don't have plans for music yet. It's not easy to invest time and money and lose such a friend. You can even forget about the money", he said.

When asked by the host ( Andy Dosty) his next line of action after Ebony, Bullet said,
"It's very hard to say what I am going to do. Trust me, I'm lost, I don't have any plans yet. It's a very big blow to me and I know God is on our side."

The late singer, Priscilla Opoku-Kwarteng, aka Ebony, met her untimely death in a gory accident on Kumasi-Sunyani highway after returning from a private trip.

Ebony's final funeral rights has been slated for Saturday March 24, 2018 at the forecourt of the State House.