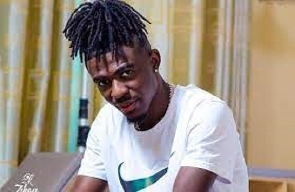 Actor cum musician Frank Naro has set the record straight on allegations chiefly peddled around by his colleague actor, Big Akwes, that he has been consulting "juju" powers.
Frank Naro, in an interview with Abeiku Santana on Okay FM's "Ekwanso Dwoodwoo", tearfully stated categorically that he has never in his life and in his acting career used juju nor gone to seek voodoo powers from nowhere.

He stated that all that Big Akwes is saying in public is nothing but falsehood and slander of his personality.

He stressed his success has nothing to do with money rituals or any evil thing but rather came through his sweat, struggles and hard work.
Further responding to the alleged use of juju to promote their career, Frank Naro summoned Big Akwes to God asking God to visit his wrath and punishment him for lying about him.

He broke down in tears as he expressed how these allegations have tarnished his image and reputation adding that what hurts him most is that the public might believe the lies and accusations.