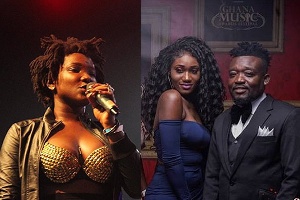 Artiste Manager, Bullet says he cannot put his career on hold over the death of an artist because he has bills to pay.
Many criticized him when he introduced Wendy Shay to the audience at the Ghana Music Awards as his new artiste few months after the death of Ebony.

"I've not replaced Ebony. I'm a businessman. I'm working. I have bills to pay. I have kids to take care of like any other person. And I lost money, I need to get money back." explained Bullet to Regina Van Helvert on Rythmz Live On GhOneTV.

Ebony died after she was involved in a gory accident on the Kumasi–Sunyani road on February 8, 2018, when she was returning to Accra from Sunyani.
Her friend, Franky Kuri, and a Military Man, Atsu Vondee, who is said to be her bodyguard on board a Jeep from Sunyani also died in the head-on collision with a VIP bus heading towards Sunyani from Kumasi.

Her funeral service was held at the forecourt of the State House. She was later buried at the Osu cemetery on Saturday, March 24, 2018.