I want to cry, make your insults very painful – A-Plus to netizens criticizing him for jabbing Hajia4Reall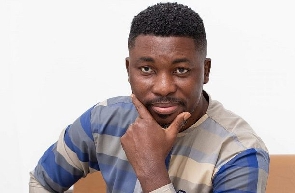 Kwame A Plus is unperturbed about the attacks hurled at him after he condemned Hajia4Reall over her alleged involvement in a fraud case.
After Hajia4Reall was arrested and extradited from the U.K to the U.S over a $2million romance scam, A Plus was one of the celebrities who slammed the socialite for what he described as the act of misleading the youth with her extravagant lifestyle.

A Plus stormed social media with a video in which Hajia4Reall was seen attributing the source of her wealth to God and hard work, and slammed the socialite in his caption which read;

"Mo daadaa young girls no saa. Mo triso!" To wit, "You've always been deceiving the young girls. Nonsense."

"My ladies, don't ever look down on yourself. Don't live by the standards of people who don't know where they go when they sleep. Don't let anyone give you pressure. You may not be rich, but you see how you are drosslessly stretching peacefully in your bed right now, and the police is not looking for you?... You are a blessing. Thank God, and keep on keeping on. Better days will locate you." He added.

His statements went viral and the comment section of the many blogs that shared his post were filled with attacks and insults from persons who defended Hajia4Reall.
An unperturbed A Plus took to the comment section of one of the blogs to 'shake off' the insults while encouraging netizens to keep pouring in more.

"Those who want to insult me should pls make it personal. You can do it under my post. NB: Make it very painful, I want to cry. It has been a very long time since I cried," he wrote.

Meanwhile, scores of celebrities have shared varied opinions on Hajia4Reall's scandal.

They have either defended or criticized her, while others have since remained silent on the issue.


Watch the latest episode of Nkommo Wo Ho below:





EB/BB