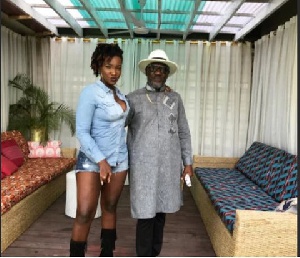 Nana Opoku Kwarteng, father of the late dancehall diva, Ebony Reigns has said he feels blessed in the two years his daughter did music.
According to him, he had high hopes for his daughter and had wanted her to be a lawyer someday, so the decision to allow her to become a musician was difficult to him.

He added that, after several talks with her (Ebony Reigns) he decided to grant her two year to do music after which she would go back to school.

Father of the late dancehall queen (Ebony Reigns) revealed this in an interview on KOFI TV.

"Ebony told me to give her just two years to go into music but I did not agree because I wanted her to be a lawyer"

"After sometime, I agreed because she assured me she will go back to school; so I did not even go for her things in her Senior High School," he revealed.
Ebony Reigns, a popular Dancehall musician, died in a gory accident on the Sunyani-Kumasi Highway on February 8 while returning from Sunyani where she had, in the company of three others, visited her mother.

Since her tragic death, there have been many mystic interpretations with many prophets claiming to have predicted such a fate for her.

Ebony's manager, Ricky Nana Agyemang, popularly known as Bullet, is on record to have stated that Ebony told him that a prophetess had predicted that she would become famous but will die young..

But reacting to the many death prophecies haunting Ebony before her death, Nana Kwarteng expressed shock saying his daughter failed to tell him.

His shock, he explained, was because there was a special bond between his daughter and himself which saw them sharing nd a lot of stuff together but Ebony failed to confide in him the death prophecies.