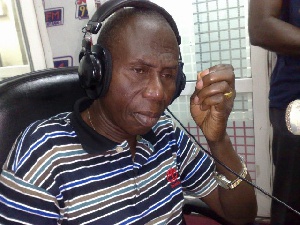 Sun, 23 Feb 2014 Source: The Spectator
In the latter parts of the 1950s when nationalists' activities in the Gold Coast shoved off a British-constituted colonial administration, a petite pupil had just started schooling at the Koforidua Asokore Methodist School in the Eastern Region of Ghana. His name was Kwaku Agyapong Danemah.
He had relocated from his parents, both of whom were domiciled in their hometown of Akyem Maase in the region, to live at the no-electricity settlement because his caretaker uncle, the Rev. Joseph Kwasi Danemah, a Minister of the Methodist Church, had been posted there as part of the church's clerical work.

Then only a six-year-old class-one pupil, Kwaku Danemah hardly knew how to speak well, let alone write or spell a word, even his name. he had then started learning the alphabets A,B,C,D….Z, and by which reason it was too early in life for him to obsess himself with thoughts about the career he would aspire to in future.

That was in 1957. But the years rolled by and the once diminutive class-one pupil grew into a teenager endowed with telling academic brilliance.

By now, Kwaku Agyapong Danemah had had quite a good grasp of himself vis-à-vis his capabilities and shortfalls. He could therefore tell or settle on a preferred career to aspire to in the future ahead of him. He wanted to practice law, a cherished dream job that neither his teachers no friends ever doubted him because of his book-long luminosity.

Not even the unavailability of electricity in the town could disturb him from studying hard to become a barrister in future. He would consequently resort to using Bobo to learn at night. Bobo is a traditional Ghanaian lantern that powers on kerosene and a wick.
Sooner than later, the name Kwaku Danemah would make way for the nickname Paa Bobo, gotten simply after the lantern he used to study during the night. That was in 1966 at the Apendwa Roman School where, at Form Two, the aspiring Barrister-at-Law had to call it quits with education.

He broke his leg which did not allow him t take advantage of a government scholarship he won that year. Traditional herbal medicine came to his rescue, but a time that all hopes of continuing with education had been dashed.

This is the story The Spectator gathered from Dr. Paa Bobo, the celebrated highlife musician, whose versatility in the industry also earned him the title Dr.

Known for exemplary voice and folkloric genre of music, Dr. Paa Bobo was taught how to play guitar by Smart Nkansah at Akyem Begoro, before having a stint with the Osino-based Lovers' Band.
Source: The Spectator