I was disappointed by rumours that I snubbed Black Sherif at Headies - Nigerian blogger Adesope Olajide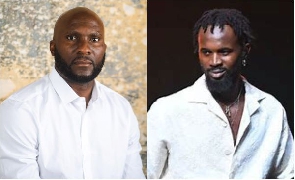 Nigerian media personality and entertainment blogger, Adesope Olajide has responded to the backlash he received following a video he posted during the 2023 Headies Awards.
Recall that during the 16th edition of the Headies Awards which was held in the United States on September 4, 2023, Adesope, who was filming the events using his personal blog, had gone to congratulate Asake and Rema. The camera briefly showed Black Sherif, who was seated next to them but was turned away.

The 10-second clip, however, resulted in a backlash against Adesope, with many on social media accusing him of neglecting and disrespecting Black Sherif for not congratulating him.

Reacting to it in a live interview with Andy Dosty on Hitz FM on November 20, Adesope explained his version of events, stating that he didn't notice Black Sherif until he was prompted.

He added that he was about to acknowledge the Highlife star in the video but quickly had to move after spotting security officers advancing.

"Something happened about two months ago when I went to the Headies Awards. I was on the grounds and ran quickly to film Rema and Asake. I did not know that Black Sherif was there; he even tapped me, but I quickly had to move away because I saw security coming in," he said.

Adesope said that he was shocked when he saw the backlash targeted at him over the 10-second clip, stating that he had consistently promoted Black Sherif using his platform.
"I did not expect the uproar coming from Ghana. To my disappointment, I saw someone on TV publicly saying to me that I was disrespecting Black Sherif that I had used my platform to promote immensely," he said.

He also lamented the inflammatory comments being used to spark tensions between the Nigerian and Ghanaian music industries, citing cases of Shatta Wale and Chief Stylz (manager of Stonebwoy) whom he said have made comments that have the potential to affect the relationships between the two industries.

"It's a fire that has been stoked up in some cases by some Ghanaian musicians and stakeholders. Sadly, we've heard comments in the past by people like Shatta Wale and Stonebwoy's manager. Unfortunately, there have been people who have dropped comments like that that have made tensions increase, making it seem like there is envy.

"So when we see people that are uninformed and have no knowledge of happenings on the ground and they speak this way, it affects our relationships," he said.

ID/BB


Click here to follow the GhanaWeb Entertainment WhatsApp channel



Ghana's leading digital news platform, GhanaWeb, in conjunction with the Korle-Bu Teaching Hospital, is embarking on an aggressive campaign which is geared towards ensuring that parliament passes comprehensive legislation to guide organ harvesting, organ donation, and organ transplantation in the country.

You can also watch the newest episode of Nkommo Wo Ho on GhanaWeb TV below: