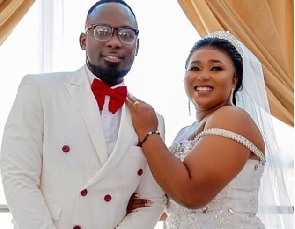 Actress and former Angel TV presenter, Xandy Kamel has disclosed that she was happy for only 5 minutes in her previous marriage.
She said this during an explosive interview with Delay where she gave candid details of her marriage to her now ex-husband, Nana Kwaku Mensah, popularly known as King Kaninja.

According to Xandy Kamel, she sponsored the entire marriage and even paid for utilities in the house over the course of her marriage.

When asked by Delay if she was happy in the marriage, Xandy Kamel refuted, stating, "I was happy for only 5 minutes."

Delay probed further, asking what signs showed her, her marriage was going through turmoil. Xandy cited cases of poor communication and lack of intimacy in her marriage.

"When we go to work, we are active, but when we get home, we are just on our phones. There was no communication, no fun moments, etc.
"Even during Valentine, I had to beg him to get me something, even if it were chocolates. He rather went to get us pork and coke. But to me, it meant a lot because at least he showed love," she said.

When asked if she attempted to fix any of these issues in her marriage with Kaninja, she affirmed, saying, "Whenever I brought up these issues, he would reply that he never went to a school of romance. We hardly even kissed, even when we had sex, I had to initiate first."



ID/ AD

Click here to follow the GhanaWeb Entertainment WhatsApp channel


Ghana's leading digital news platform, GhanaWeb, in conjunction with the Korle-Bu Teaching Hospital, is embarking on an aggressive campaign which is geared towards ensuring that parliament passes comprehensive legislation to guide organ harvesting, organ donation, and organ transplantation in the country.

You can also watch the newest episode of Nkommo Wo Ho on GhanaWeb TV below: