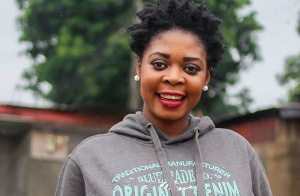 Ghanaian actress and former HIV/AIDS Ambassador, Joyce Dzidzor Mensah has revealed that she was paid only GHC 800 for being a brand ambassador for AIDS campaign.
Joyce has claimed over the years that she was HIV positive but was a healthy person because she was on antiretroviral drugs.

She became the face of the AIDS commission and had support and funding from several organizations, institutions, banks and civil society in her campaign across the country on how to prevent HIV and how persons who have tested positive can live healthily and happily with the virus.

She disclosed to host of Showbiz Agenda, Sammy Flex that although a lot of people thought she was rich and wealthy because of the contract she had with the AIDS Commission, in reality she wasn't making any substantial amount as an ambassador.

She was mostly seen on television, heard on radio and almost every billboard had her photos beautifully displayed on them.

But according to her, "I wasn't a salary worker for them, I think they are still owing me, because if you look at what I`ve done, the adverts, the billboards, is not GHC 800 job"
She said that, her decision to go ahead with the GHC800 was purely born out of the love she has for the job, even though she bargained for GHC 3,000.

"They asked me how much I wanted to be paid and I told them at least GHC3000 a month, and they said they can't afford the GHC3000, so they bargain to GHC800, but I said for the love of the job I will do it" she said.

Meanwhile, her contract which was supposed to last for five years only lasted for a year.

"They terminated my contract because of my love for music" she revealed.