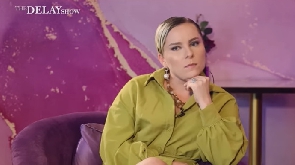 Chloe, popularly known as Yaa Baby was born and raised in the United States of America and had to journey to Ghana together with her family at age ten. Her father was a missionary and was tasked to oversee the affairs of a Baptist Church in the West African country.
The preparation was, however, shrouded by fear due to the narratives they had heard about the country and being oblivious to how the journey would be.

"We were anxious because, for instance, I hadn't sat in a plane before," she said in her interview on The Delay Show. "I had heard about Ghana but I really didn't know the country and the things people said about the country were not encouraging. It didn't sound like a place you'd be happy to stay in there so I was a bit scared."

"Both the whites and blacks abroad said it's not interesting to stay in Ghana; there is erratic power supply, scarcity of food. These were Ghanaians and whites who had experienced Ghana. They say seeing is believing, I hadn't seen Ghana so I came with an open mind. Regardless, I was jittery," Yaa Baby added.

The situation was not the same for her parents because as missionaries, they left their fate in the hands of God.

Sharing her experience in Ghana, Yaa Baby, now married to a Ghanaian video director, Kofi Awuah, indicated that the weather was enough to make her recognize she was in another country.
"My first memory was the heat that welcomed me as soon as they opened the aircraft doors. I noticed there's a different vibe and different scent," she said. "It's normal if you go to a place for the first time. It was a bit different from summer. I think we came in October so we were just about to experience harmattan so it was slightly different from summer."

According to Yaa Baby who has maintained her American accent but speaks impeccable Twi language, they spent a week in Accra before heading to Kumasi.

"We lived at Kwadaso and moved to other places," the actress and social media influencer recalled.

Having been homeschooled by her mother who holds a master's degree, Yaa Baby said she wanted to be a nurse "but for one reason or the other, I just decided I wasn't ready for that."

Her parents stayed in Ghana until 2016 when they decided to return home. This was after living in Ghana for over a decade. She mentioned that she decided to not go with her parents because of her husband, Kofi Awuah.
"We married before they left," she said.

Yaa Baby now says Ghana is her home.



BB