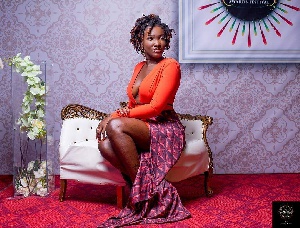 Ghanaian artiste, Ebony has no plans of toning down on her dressing in spite of the severe backlash from critics.
She disclosed on Hitz FM she "won't stop displaying my body part. Ghanaians will get used to me. That's the point of being a trendsetter."

She claims she is not at all bothered by the criticisms.

"I've been getting negative comments from people with regards to my public appearance. I've been criticized since I was growing up so I've never been bothered about criticisms. Bullet tried to tone it down. Sometimes, there's an outfit I want to wear to a show and he will be like 'No Ebony, Ghana is not ready for this'."

Ebony is usually critized for what many say is her lack of talent, and believe her showing skin on stage and in music videos is to push attention from her untalented self.

In July 2017, her dad was forced to defend her daughter in an interview with Graphic Showbiz.
"I am supportive of anything my daughter does and anything she wears. I am not ashamed as a father, the truth is that, I choose what she wears and I bless her before she goes out to perform. Some Ghanaians are hypocrites and I am sorry but I am not one of them," explained Mr. Kwarteng.

"I am not bothered at all. The reason is simple, I know my daughter than anyone else. What people see out there is what we want them to see and that is because she is an artiste and needs a brand that will sell. For God's sake, she is a Dancehall artiste and she wears what will make her feel confident when performing on stage. Something that will depict the genre of music and songs she churns outs."

He shared his thoughts on the the perception that his daughter is "bad" girl.

"My daughter is not a bad girl, she is very calm, loving and a respectful person. Whatever she does on stage ends there. She is a different person when she gets home."

He also spoke about the relationship between himself and his "girl as I usually call her is close to my heart."
"We are so close that I gave her the go ahead when she told me she wanted to do music. Initially I questioned her decision because, she is a very intelligent girl and was doing extremely well in school and every parent will want his or her child to get to the top of the highest academic ladder. But she insisted music was what she wanted to do. Music is where her heart is and I gave her my blessings. I couldn't have stopped her because these children are smart."

Born Priscilla Opoku Kwarteng, her song 'Kupe' helped her gain mainstream attention in the Ghanaian music industry.

She scored two nominations at the 2017 Ghana Music Awards: Dancehall Artiste of the Year and Best Reggae/ Dancehall Song of the Year .

Ebony is signed to Rufftown Records.