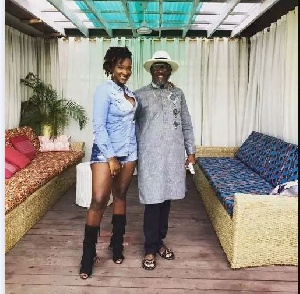 The father of late Ghanaian dancehall artiste, Ebony Reigns, Nana Opoku Kwarteng, has stated that he is yet to receive the songs made by her daughter which are yet to be released.
Speaking in an interview with Melvina Frimpong Manso on Suncity Radio's Showbiz 971 in Sunyani (which was monitored by the News Hunter Magazine), Nana Opoku Kwarteng emphasised that he would love to have the works that his late daughter left behind.

"As I speak with you Bullet has not sent me Nana Hemaa's songs like he is claiming. It is a lot of songs. Nana Hemaa [Ebony Reigns] told me she had over 40 unreleased songs. You haven't sent me the songs and you are stating that you have sent to me. The inconsistencies are many," he said.

"I will accept the songs when he sends them to me. Both sung and unsung ones...I would love to have them," Nana Opoku Kwarteng stressed.

When asked if he has the know-how to manage the songs, he said, "I am not a music person, but I will consult people and work on it because I do not have any option."
In a press statement last week, the Chief Executive Officer (CEO) of Rufftown Records, Ricky Nana Agyemang, popularly known as Bullet, stated that he is not interested in releasing any songs from Ebony Reigns.

Bullet indicated that though the label owns about 60 per cent of the unreleased songs of Ebony, they are giving full ownership to her father, Nana Opoku Kwarteng.