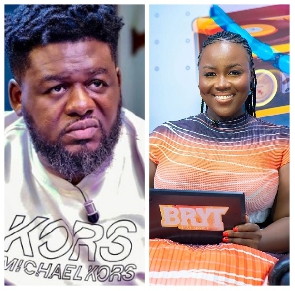 Lawrence Nana Asiamah Hanson, an artiste manager and entertainment pundit has described as "harsh" MC Yaa Yeboah's submission about Nigel Gaisie's prophecy on one Sheriff Black.
Gaisie, the founder of Prophetic Hill Chapel, had prophesied that doom would befall one Sheriff Black if no spiritual action was taken, emphasizing that it was revealed to him.

His statement that the prophecy was not directed to musician Black Sherif was seen as an evasive tactic as critics, including media personality MC Yaa Yeboah, slammed the prophet.

"Good prophets add sense and discernment to what they say. They relay sense in whatever they say. Clearly, Nigel lacks that," Yaa Yeboah said on United Showbiz hosted by MzGee, explaining that Gaisie "has given out these prophecies not just once or twice. In some cases, some of them come to pass and we don't even know whether it's God that made it happen or people manipulate those things."

Without mincing words, she mentioned that Gaisie was being childish and his defence made no sense to her, making the prophet call into the show to express dissatisfaction.

"This is the reason I don't speak to issues when you call me," said Gaisie on the show monitored by GhanaWeb. "If I was your pastor, you wouldn't say these things about me. You won't allow that young girl to disrespect me like she is doing."

"If I were her pastor, can she say that? You don't let anyone disrespect and discredit me. If she has a problem with me, I don't know her. I won't take that," Gaisie fumed and further demanded he be referred to as 'prophet' instead of Yaa Yeboah calling him by his first name.
While Yaa Yeboah insisted she never disrespected Gaisie, Lawrence Nana Asiamah Hanson, known in the showbiz industry as Bullgod faulted her.

He argued: "It is not fair that we crucify the messenger. You know that in your heart, how you spoke to the prophet is harsh. What he said is not nonsensical."

He continued: "Maybe you don't understand the issue. I understand it's ambiguous to you but you attack the message; don't attack the messenger. This is a spiritual issue so if the spirit speaks, we should be cautious."

Yaa Yeboah, regardless, maintained she was spot on, insisting that "It's not harsh. I spoke Twi. I said it's nonsensical to me."

Ghana's leading digital news platform, GhanaWeb, in conjunction with the Korle-Bu Teaching Hospital, is embarking on an aggressive campaign which is geared towards ensuring that parliament passes comprehensive legislation to guide organ harvesting, organ donation, and organ transplantation in the country.

BB