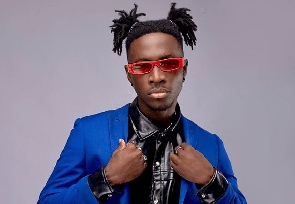 Popular Ghanaian dance artist and choreographer, Amofa Michael, professionally known as Incredible Zigi has apologised for comments he made about music artistes in the industry.
Incredible Zigi, in an interview with Hitz FM on September 14, 2023, claimed that dancers do most of the work to promote songs by music artistes, eventually turning these songs into hits. He added that the level of hard work put in by dancers needs to be recognized by award schemes like the Vodafone Ghana Music Awards.

"Most of these songs that are getting recognition in Ghana are tailored by dancers. We spent much time on social media posting the songs. It's like the artists are sleeping and we are the ones blowing the song. Dancers need to be awarded on a big platform like the VGMA," he had said.

The comment, however, led to a backlash on social media, with many accusing him of disrespecting the efforts of artistes.

As a result, Incredible Zigi has in a statement released on September 19, apologised for any offense caused by his comments. He claimed his words were taken out of context and being misunderstood.

Incredible Zigi explained that he was rather calling for more collaborative efforts between artistes and dancers and did not mean to undermine the hard work of any artiste in the industry.
He also highlighted his support for artistes and the entertainment industry at large and called for more partnerships in the music scene in Ghana.

Below is the full statement.

Dear cherished fans of Incredible Zigi, lovers of music and dance,

I was recently interviewed on Ghana's esteemed media outlet (Hitz FM) discussing the important topic of recognizing dancers on major entertainment platforms, given the vital role they play in promoting music.

Regrettably, it seems that my comments have been misunderstood, and I would like to clarify that we are all interconnected in the same creative family.
Click here to start the nomination process for the 2023 GhanaWeb Excellence Awards

In reality, all I intended to say was we are all part of the same artistic ecosystem, and our collaborations are what make the industry thrive. Dancers help bring the music created by our hard working musicians to life through our incredible talent, creativity and dance routines hence the quest for recognition through award platforms. It is the synergy between artists and dancers that truly makes the magic.

I apologize for any offense caused and want to emphasize my respect for artists and the entire entertainment industry. Let's celebrate each other's talents and work together to create unforgettable art.

Thank you for your understanding, and I look forward to a future filled with incredible collaborations and positive energy.


ID/BB

Ghana's leading digital news platform, GhanaWeb, in conjunction with the Korle-Bu Teaching Hospital, is embarking on an aggressive campaign which is geared towards ensuring that parliament passes comprehensive legislation to guide organ harvesting, organ donation, and organ transplantation in the country.

Watch the latest episode of Everyday People on GhanaWeb TV below: