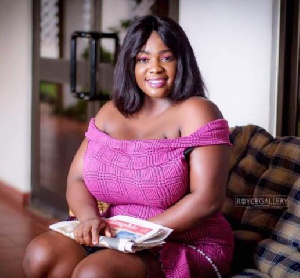 Popular actress and entrepreneur Tracey Boakye has cautioned Ghanaians to be wary of deceptive politicians.
The NDC member posted a picture of a building on her Instagram handle with the caption "hhhhmmm, Ghana, lets do our investigations well before we join the queue to vote during elections…..smh".

Details about the house she posted is scanty but it is believed the mansion is owned by a politician since she had a word of advice to give to the general public concerning the building.

The boss of Shakira Movie Production for the past months has been quiet about politics focusing on her yet-to-be premiered 14th self-produced movie, Baby Mama so it came as a shock when such a post was seen on her social media page.

It is unclear what exactly has triggered this cryptic post but we can only wait and see how this unfolds.
Miss Boakye in 2016 campaigned for the leading opposition party, National Democtratic Congress, NDC.

She's reiterated in several interviews that she will continue to campaign and vote for the party during the next general election.