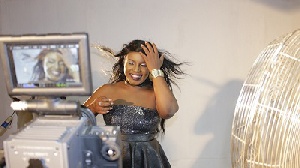 Singer Irene Logan was on set last week to execute a video for her song "Dance".
A dance song that can be favorably classified under the world music category reveals the depth of Irene's vocal prowess and growth as an artiste.
Riding on the back of her recent album launch in Tamale, Irene teamed up with Director Steve Gyamfi of Red House Philms to deliver what should be another impressive work of Art.