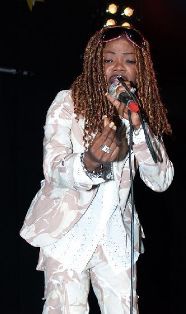 The Back in the Day Concert may have come and gone, but the talking points are going to linger for a very long time. One of such talking points will be coming from the side of Abrewa Nana known in real life as Dorcas Opoku Darkwa, being a big threat to the other female musicians in Ghana.
Her performance on the night of the event was brilliant, looking at it from a point one may call a 'veteran point'. She showed that there is still more inside of her, and then leaving us all to ruminate, "where has she been?" Her songs still lingers in our hearts, her swag – that we cannot take away as she's got it full.

Recently, the onetime Best Female Artiste at the Ghana Music Awards UK, said she believed that her entrance into the music industry some ten years ago paved the way for more females to break into a terrain which was then dominated by men, "I think they've actually learnt a lot from me even though they won't go public to say it. I believe I've been an inspiration especially to the female artistes". This comment may come out sincerely from her, yet with what she did on stage last Friday, it certainly will be raising eyebrows from the likes of Eazzy, Mzbel, Kaakie, et al, doing the same genre of music.
After Friday's show, are we right to say that the lady who said she paved the way for a lot of female artistes is rather going to be a threat instead of an inspiration?

Abrewa Nana has three albums to her credit with her first; Sagaa, in 2000 earning a Ghana Music Award nomination. She later followed it with African Gal and Maba in 2002 and 2004 respectively.