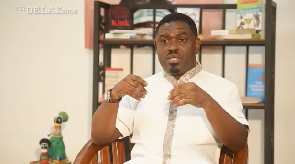 Gospel musician Nacee has said the Food and Drugs Authority's decision to ban Ghanaian celebrities from advertising alcoholic products makes no sense.
Speaking on United Showbiz on Saturday, November 18, 2023, Nacee questioned why foreigners are permitted to promote such products while local celebrities face restrictions.

Nacee, who is both a musician and music producer, emphasized that even if lesser-known individuals are allowed to advertise, they may eventually become celebrities. Therefore, he argued, the ban on celebrities would be futile in the long run.

"A continued posting of images and videos of people make them popular. Nobody knew Michael Power until Guinness kept pushing his commercials," he said. "If we feature an ordinary person in ads and keep promoting the said ads, they will rise to become popular in a couple of months so much that they may not be able to buy food from the roadside."

Nacee continued: "It is surprising that we won't let our local celebs advertise but our foreign counterparts are allowed to. It is good to regulate whatever we do, but it should not be discriminatory. We love foreigners than ourselves… it doesn't make sense. Let's stop starving ourselves while giving foreigners the juicy deals."
The FDA in 2015 banned Ghanaian celebrities from advertising alcoholic beverages. According to the regulator, the ban was in adherence to a World Health Organisation policy. It also said the decision was part of efforts to protect children and prevent them from being lured into alcoholism.

Despite the backlash and calls for a change in the narrative, Kofi Essel, Head of Industry Support Services Department of the FDA in an interview said his outfit cannot lift the ban on popular figures endorsing alcoholic beverages.

"Well known persons have the potential to influence their followers who are not legally permitted to possess alcohol or use alcohol," he argued. "In view of that guidelines have been set to guide operations of alcoholic beverage companies, including advertisement of their products and this is the reason well-known persons are not allowed to endorse the products."

Court case
Mark Darlington Osae, the artist manager of Reggie 'N' Bollie and Skrewfaze, filed a lawsuit against the Food and Drug Administration (FDA) and Attorney General, Godfred Yeboah Dame, citing the ban on celebrities endorsing alcohol-related products.

Mark Darlington Osae submitted a writ of summons on November 11, 2022, claiming that the 2015 FDA recommendations are unfair to the creative arts sector. Osae's central argument centers on what is claimed to be an inconsistency and breach of articles 17(1) and 17(2) of the 1992 Constitution. These articles ensure equality before the law and prohibit discrimination based on factors such as social or economic status and occupation.

"No well-known individual or professional may be utilised in advertising for alcoholic beverages; this is against the 1992 Constitution's provisions 17(1) and 17 (2).

"Articles 17(1) and 17 (2) of the 1992 Constitution guarantee quality before the law and prohibit discrimination against persons on grounds of social or economic status, occupation, among others, and consequently null, void, and unenforceable," Osae argued.
On November 15, 2023, the case was adjourned until 17 January 2024.

Meanwhile, Nacee is gearing up for his concert.

The Kavod Concert 2023 would be Nacee's first event since he started gospel music, and he explained that "Kavod" means 'The terrifying glory of God,' chosen to suit the attribute of God on the event day.

It will be held on November 26, 2023, at the National Theatre at 4pm.
Click here to follow the GhanaWeb Entertainment WhatsApp channel




BB