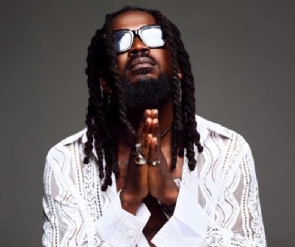 Samini has shared his honest opinion on rapper Sarkodie's performance on the re-make of Bob Marley's classic love song 'Stir It Up'.
According to the singer, nothing beats the original song which Bob wrote, recorded and dedicated to his beloved wife, Rita Marley in 1967.

Samini, Ghana's Reggae and Dancehall musician who is regarded as one of the best artistes in the industry believes that Sarkodie could have gone harder on the collaboration.

He was however quick to commend the rapper for his rap delivery with his verse on 'Stir It Up'.

Samini's answer was in response to a tweep who asked for his candid take on Sarkodie's latest international collaboration.

"It's a nice jam...I'm not too amazed tho cus it's a song I love from time. I think he did his thing on the rap still. I mean it's sark. You'd expect him to kill his verses at least. In my opinion he did. I still love the original track though. Nothing beats that," read Samini's tweet.
Meanwhile, talent manager, Ayisha Modi has explained why a Dancehall musician should have been contracted for the collaboration instead of Sarkodie whom she states failed to do a good job.

"They have to redo that remix because it is not the best.

"The name Bob Marley and the song made for him doesn't sit well with me. There are certain things which are not your field, don't force it. This belongs to Shatta Wale, Stonebwoy, or Jupitar, it is their field. To me, that remix should be remade," Ayisha disclosed in an interview on Kofi TV.




OPD/BB