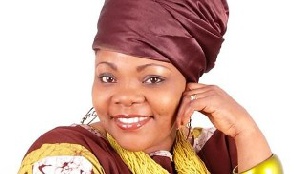 Gospel musicians have been taken for granted for far too long and I think it's about time we are respected, Celestine Donkor, one of Ghana's finest gospel musician has stated.
Speaking to Agyemang Prempeh on Rainbow Radio 87.5Fm, the musician pointed out that, gospel musicians just like their colleagues in the secular music, are into business and should be treated as such.

She made the comments after the host had suggested that gospel musicians are not financially sound despite her claims that, gospel music is leading in Ghana. ''Gospel music is leading in the music industry in Ghana. It is not relative but factual and I can prove it. Number one, our society is highly religious, every corner you pass there is a church, what song do they sing at church? Gospel music- and that is a market for gospel music. Secondly, when you look at sales of CDs-even though sales has been affected, gospel music sells.''

She further explained that there are a number of factors affecting gospel music including education and people have the perception that, gospel musicians were gifted by God hence they should perform for free.
Celestine Donkor was of the view that corporate Ghana and the Church most especially, should understand that, there is a business aspect of the gospel song and you cannot enter a studio and tell the producer that, you want your works done for free.

She added, it is primitive thinking for anyone to make claims that gospel musicians should not be charging for events.

She further slammed corporate Ghana for not investing in events like gospel events just like they do for the secular world.