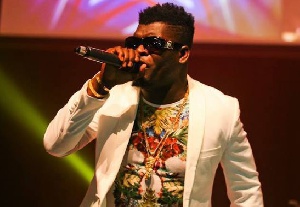 Castro has picked the number three spot on Ghanaian Twitter trends.
This is due to several tweets paying tributes to the missing Ghanaian musician.

Some tweeps have called on him to return from wherever is because 2019 is the "Year of Return".

The "Seihor" singer went missing five years ago after going on a jetski ride during a holiday trip to Ada with a female friend Janet Bandu, they have both not found since.

Though people believed the two may have drowned and probably dead by now, others still have hope that the singer or Janet, may be alive because their remains are yet to be found.

Government of Ghana has pronounced 2019 as "Year of Return". An initiative to invite people of African descent to visit the continent, particularly Ghana, to commemorate the 400th year of when Africans were first enslaved.
Tweeps have reconciled Castro's disappearance with the Year of Return, praying he shows up this year.

Below are some reactions;


Sarkodie is a whole mood.??????
Castro this is the #YearOfReturn .???????? pic.twitter.com/NC5rmjfttq

— MR.LAW (@the_law_himself) November 7, 2019
Year of Return then Gboom Castro rerun back Home. ????????????

— Venom ???????????? (@LyricsReal) November 7, 2019
Castro, the year of return come.
We de wait you.

— 1000 (@oneman1000_) November 7, 2019
This is the year of return Castro if you alive please this is your chance.

— Joojo Daniels (@d_joojo) November 7, 2019
Hope Castro is aware this year is a year of Return ????#YearOfReturn pic.twitter.com/sMYL3OuSVk

— Samuel Boadu-Millionaires Consultant™ (@millconsultant) August 26, 2019
Man, the Year of Return is not complete until Castro returns.

— Lôr? V?kkÿ®™ (@laudvekky) November 7, 2019