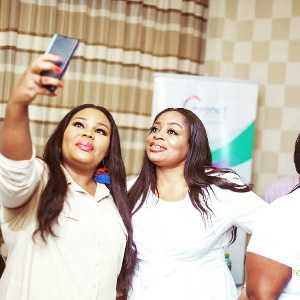 It is no more news that Nigerian singer Sinach is in Ghana for Women in Worship concert slated for Thursday, September 20 at the Perez Dome.
After zionfelix.net reported about the 'Way Maker' hitmaker's failure to sing any Ghanaian song at a press conference held on Monday in Accra ahead of the event with the excuse that she knows none, Onua FM entertainment show host, Christian Agyei Frimpong took to social media to express disappointment in Sinach and other Ghanaian gospel musicians who jump on stages to sing songs of foreigners instead of their composed songs.

Christian went on to rebuke gospel star Ceccy Twum over a picture she is seen busily taking a selfie with Sinache.

The radio show host in the post which many says disgraces the artist wrote "Funny, look at Ceci Twum busily taking a selfie with someone who does not know you and your music. Frank Kwabena Owusu, do u still manage her?".

Ceccy Twum after reading the Facebook post decided not to keep mute but reply the radio presenter accordingly. The "Me Nyame Aye Wie" singer told Mr. Agyei Frimpong that she is at peace with herself even if Sinache does not know her.

"Frimpong Agyei Christian even if something positive doesn't come out of it, I am at peace with my self. I don't need to impress anybody, I am not in competition with anybody. She might not know me and my music but it takes a day to know someone.

It funny how some people can not handle everything right about you but finds the least opportunity to say the wrong thing about you. That's your opinion and you're entitled to it. Am very much okay with that.
But one beautiful thing is that we have met each other to lift the name of Jesus higher and that's most important thing. Bro. The spelling of my name is Ceccy and not Ceci. Thanks anyway for the post. And God bless us all #SWEETSPIRIT #ONEKINGDOM #ONEGOD" she wrote.

The Onua FM presenter after Ceccy's comment told the musician that the post was not meant to denigrate her image but to help the Ghanaian music industry grow.

The Minstrel came again to reply that "Frimpong Agyei Christian so growing the industry for all of us to enjoy, I must be the center of attraction just because I took a selfie with Sinach. You are not trying to bring anybody down but your captain alone can break a soul and a spirit.

But I thank God such things does not even tickle me. Being a media person whatever you say or writes about someone can make and unmake them. We should bear that in mind. Thanks once again and God bless us all. #SWEETSPIRIT"