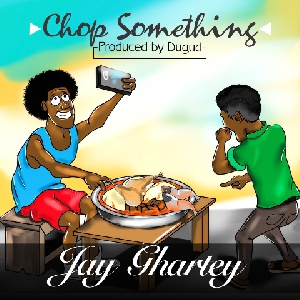 Tue, 26 Jan 2016 Source: David Mawuli
After premiering on Dr Pounds' "Hitz Hi-Table" show on Hitz FM over the weekend, Jay Ghartey has dropped the much awaited Afrobeats/Hiplife single dubbed "Chop Something".
Though Jay Ghartey is known for producing sterling ballads, he proves his versatility as a singer/rapper on "Chop Something".

The song produced by the in-demand sound engineer, Dugud, saw the multiple award-winning melds his rapping and singing abilities with some catchy chorus on the fast-tempo track, creating a flawless party masterpiece.
Enjoy the song below:


Source: David Mawuli