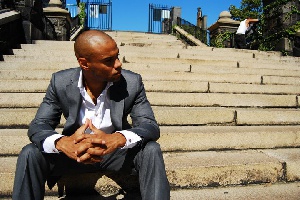 One of the biggest breakthrough acts of 2010, Jay Ghartey has expressed his appreciation and admiration for ace Ghanaian broadcaster, Kwesi Kyei Darkwa (KKD). The two recently met at the 2nd annual 3G awards held in New York City on December 4, to honour past and present Ghanaian entertainers. KKD hosted the ceremony and received an award at the event as well.
Ghanaian American singer Jay Ghartey of GH Brothers was one of the surprise guests and when he was asked to say a word about KKD, he revealed that KKD was a source of his inspiration as a child growing up in Accra.

He commented: "The first time I ever performed in front of a large audience, over 20 year ago, KKD was the MC for the show and encouraged me as a young talent. Being a professional entertainer in Ghana was not easy back in those days and the sense of professionalism, passion and confidence he exuded left an impression on me. This is something I carry to this day. When big shows were organized and young entertainers were nervous, the presence of KKD had a calming effect. Whatever happened, it would be a good show if KKD was around. He was also the first rapper in Ghana. Something people should know. Many years before Hiplife took off KKD was rapping on the radio and at shows. He was revolutionary and the young artists and fans of GH hip hop should be informed of this, so as to know the proper history of music in Ghana."
Some of the award winners were rapper Kwaw Kesse and major producer Coptic who were given awards for their contribution to music in Ghana.