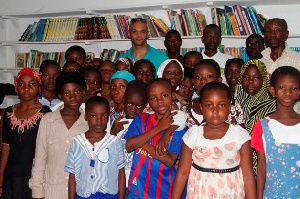 Thu, 18 Oct 2012 Source: GhanaWeb
Renowned music artiste, Kweku Gyasi Ghartey, well-known in showbiz as Jay Ghartey, has reaffirmed his commitment to education with a promise to set up more charity schools across the country.
In the immediate future, the US-born Ghanaian music sensation has announced his intention to build two such schools in Winneba and Cape Coast – which he describes as his ancestral hometowns.

The "My Lady" hit-maker announced this in Accra shortly after inspecting his new charity school at Nima, last week. The school, constructed by Jay and his brother, Joe Ghartey, as a project under their GH Brothers Youth Foundation, currently caters for over 150 pupils from the elementary to the adult level.

The pupils, many of whom hope to return to the proper school system, have now taken to the opportunity provided by the school to build their future. In an interview on Monday, Jay Ghartey hinted that he would set up two additional schools in Winneba and Cape Coast, all in the Central Region.
"These are my ancestral towns and as the saying goes, 'charity begins at home', my next planned schools are going there," he announced, adding that he intends to build more of such school across the country.

Touching on his visit to the Nima charity school, Jay Ghartey shared a profound delight upon meeting and interacting with the pupils, who promised him to take their studies seriously in order to realise their aspirations.

He said: "I had a great visit with the children. This has always been a dream of me and my brother to have schools that help the youth of Ghana. There are so many geniuses who need to be encouraged and sometimes encouragement and an academic environment is all a child needs to blossom into a responsible citizen", he added.
Source: GhanaWeb