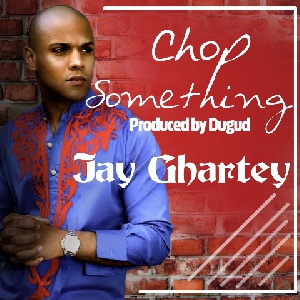 Wed, 20 Jan 2016 Source: David Mawuli
Multiple award-winning New York based Ghanaian Afro-pop singer Jay Ghartey, has jounced back with a fast tempo Afro-pop track dubbed "Chop Something".
"Chop Something", a pidgin phrase which translates as 'enjoy the fruit of your labour' or simply 'eat something' is the first track by Jay Ghartey after his one year unannounced hiatus.

The dance track produced by in-demand sound engineer Dugud is a warm-up and surprise gift to all his fans in Ghana and across the globe.

"Chop something' is a song to motivate and push people to live their lives, and to chop something. You can chop award, money, a match and so many things. Forget about anything negative and chop something," Jay Ghartey reveals in an interview.

"I love my fans so much. They are loyal to me and I am loyal to them, and I pray all my fans are prosperous this year," Ghartey expresses his love and loyalty to fans.
"This year, everybody for (must) chop something. Many new songs are coming from me but first we have to chop something," the 'My Lady' hit maker promises fans.

Jay Ghartey praised the producer of "Chop Something" saying, "Dugud is a super producer in the making."

"Chop Something" will officially be out on Saturday, January 23, 2016 and will be premiered on Accra-based Hitz 103.9 FM.
Source: David Mawuli