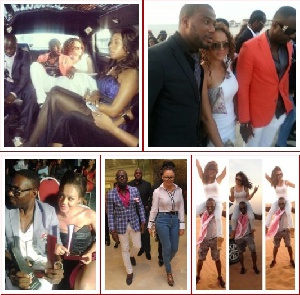 Sun, 28 Apr 2013 Source: Linda Ikeji
Is Jim Iyke dating Ghanaian actress, Nadia Buari?
We all know his official girlfriend is the Jamaican babe, Kenturah Hamilton, who he has been dating on and off for the past five years, but his friendship with Nadia is beginning to make me curious.

Yes, it's my business to be curious about things like this...lol. His publicist this week denied any romantic relationship between Jim and Nadia but we all know they always deny these things until we find out the truth.

For two people who aren't dating, Jim and Nadia seem awfully close. Jim hasn't been spotted with Kenturah in a while, so they might be taking a break. Has he moved on to Nadia? Let's analyze these photos below and see what we conclude..:-)

The first and second photo above is Jim and Nadia in Dubai in March for 2face Idibia's wedding. Heard they came together and left together. Peep them holding hands in the right photo.
The photo on the left below is the friends at an award ceremony in Uganda in December 2012. The next photo is Jim and Nadia arriving together at his Unscripted premiere in Lagos on Thursday April 18th.

The last photo is Jim and Nadia playing around in a desert somewhere in Africa. She posted the photo on her instagram page yesterday and said something about being really happy!

Right now, I really can't say if they are dating...but I will find out! I'm onto you two Jim and Nadia. Lol. Cute couple!
Source: Linda Ikeji