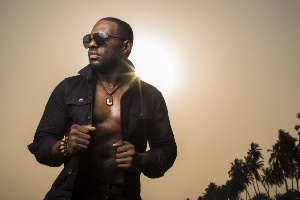 Tue, 17 Jun 2014 Source: Olamide Jasanya
Nollywood actor, Jim Iyke may be looking for more controversy, going by his recent comments about Nollywood being too boring and predictable.
He said this during an interview with Punch Newspapers in which he described the industry as too easy, which was the reason he left for a while.

In his words, 'Nothing was challenging anymore. It was too easy and too perpetual. It was too boring and too predictable. I had no room to pursue or hone other skill sets I had. I didn't have time for…hobbies, family, and friends, personal and social advancements. Something had to give! After all, I was the guy that made 38 films in a year.'

He also spoke about his relationship with Ghanaian actress, Nadia Buari, who he says is a solid and down-to-earth woman.
Addressing their rumoured split, Iyke says, 'We have embraced who we are and learnt to create our own world and expectations. We have ups and downs like every other couple. We have our strength and weakness as well. At the end of the day, rumours of break ups and make ups ought to abound. It really doesn't matter.

A relationship is a continuous work. Those that give up perhaps weren't committed enough. Those that go in for the long haul suck up and square up to the variables life throws at them. The people that judge harshly are obviously the ones that live far from their desired lives. We just live the best way we know how and leave the rest to the author and finisher of all things.'
Source: Olamide Jasanya