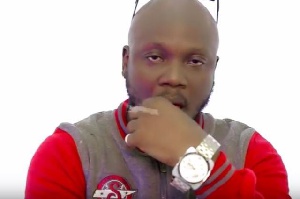 The Ghanaian music industry is no stranger to the ups and downs of life, but sometimes, the personal challenges faced by our beloved artists can be deeply moving.
On Thursday, August 31, 2023, the talented Ghanaian musician Joe Frazier faced a devastating loss when his beloved mother, Obaapayin Yaa Boamah, passed away.

Obaapayin Yaa Boamah, a pillar of strength and love in Joe Frazier's life, had been battling illness for some time. Her passing leaves a void in the heart of the artist, who was known for his close-knit bond with his mother.

Joe Frazier, born Andrew Kwadwo Agyen, shared the sad news with his fans and followers on social media, expressing his deep sorrow at the loss of his mother, who was not only his family but also his source of inspiration throughout his musical journey.

The news was met with an outpouring of condolences and support from friends, fans, and fellow musicians alike.
In the midst of his grief, Joe Frazier and his family are preparing to come together in the coming days for a family sit-down. During this gathering, they will discuss and plan the funeral arrangements for Obaapayin Yaa Boamah. The details of the funeral will be shared with the public as soon as they are finalized.

Joe Frazier, known for his hit songs like "Shiishii" has touched the hearts of many with his music. Now, he faces one of life's most challenging chapters: bidding farewell to a loved one.

In the meantime, we extend our deepest condolences to Joe Frazier and his family during this challenging time.