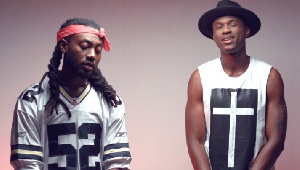 Usually, you will find them hanging out or rocking shows together but very little has seen of the two lately. I mean Pappy Kojo and Joey B seem not to be in good terms now.
Although many have argued the two all seriously working towards the release of their individual albums, Pappy Kojo has shed light on his current relations with 'U X Me' hit maker and it's not what people think.

Speaking to a presenter who wished to know what was happening between Pappy Kojo and Joey B after the former's performance at Ko-Jo Cue's Concert at the Alliance Francaise in Accra, Ghana, Pappy Kojo disclosed just as brothers would do, "they fought".

Yes, Joey B and Pappy Kojo "fought".

"That's my brother. Brothers fight. Do you have a brother? You fight with your brother right? Exactly", he told the presenter.

The musician who just released 'Vanne Damme' would however not explain what caused the "fight" or what exactly he meant by "fight" as he told the presenter he was being too inquisitive.
"You going too far with this now!", he said.

The two have been very good friends since Pappy Kojo's return to Ghana and have had hit songs including Wave and Realer No.

It is unknown when the two will settle their impasse but we understand they have a number of songs sitting in the studio.

Pappy Kojo recently showed the world his love for Joey B as he inked the later's name on his arm.