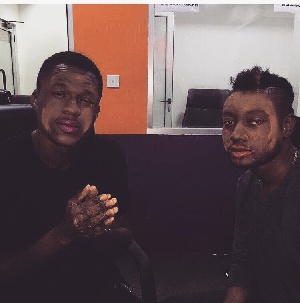 They were the very best of friends, attended almost every event together and we are tempted to believe they even went on girl hunt together (don't mind us) but just as nature may have it, the two went separate ways due to misunderstandings.
That, however does not prevent Pappy Kojo from celebrating Joey B on his 28th birthday.

On the said date, Pappy Kojo took time to send a birthday shout to the friend with whom he recently released a single M'akoma attributing his success to him.

In a post, he said, "There wouldn't be no Pappy kojo without Joey b.hes responsible, forever grateful , happy birthday BEEZY!"
Pappy Kojo wears a tattoo of his dear friend Joey B on one of his arms as a sign of respect and appreciation for what he has done for him.

In September 2016, Pappy Kojo revealed the two 'fought' over an issue leading to their separation, "That's my brother. Brothers fight. Do you have a brother? You fight with your brother right? Exactly".


There wouldn't be no Pappy kojo without Joey b.hes responsible, forever grateful , happy birthday BEEZY! ?? pic.twitter.com/b2DlT9CYp0

— Pappy Kojo (@PAPPYKOJO) August 20, 2017