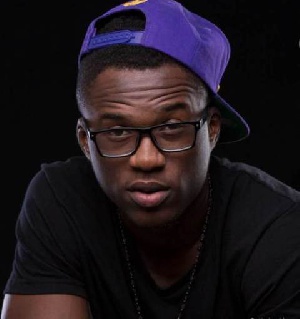 2014 VGMA New Artist of the Year, Joey B, has in recent times been noticed attending couple of events without entourage from Black Avenue Muzik, headed by D-Black.
Many are of the view that after the 'Tonga' singer won at 2014 VGMA, he has often not involved himself much with the team from the record label that seem to have sold his brand before now with his 'Oh,Vera!' song.

In recent times, Joey B has been seen alone and sometimes with a few friends out of the circle of Black Avenue Music at some events including EL's B.A.R concert and also at VVIP's SallaFest show which marked the end of the Islamic fasting and praying season, Ramadan.

Meanwhile, D-Black together with his team has been moving around without his signed artiste, Joey B, that is quite surprising as the two had always been seen together at almost all events.

These instances have raised eyebrows as to whether the 'Tonga' hitmaker is still with the record label or not.

The 'Discovery of the Year artiste even without an album is gradually becoming a household name with hits like 'Ice cream', 'Strawberry ginger', 'Cigarette' and 'Tonga' just to mention a few.
With his potential, many believe he has more under his sleeves for the industry, but it is always crucial to have a strong team behind you.

Well, we asking a rhetoric question; Does JoeyB have a contract 'shake up' with D-Black or they both chose to move around in a 'solo dollo' fashion?

The two artistes has songs including 'Chop Kenkey', 'Strawberry ginger', 'Oh, Vera!', etc.

Watch 'Oh, Vera' by D-Black featuring Joey B below: