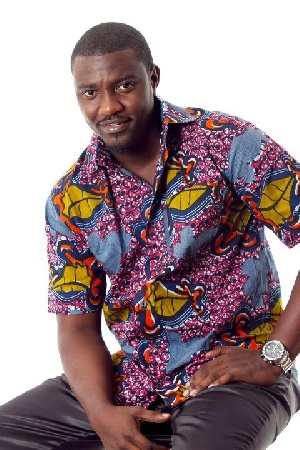 Tue, 15 May 2012 Source: News one
Reports picked by NEWS-ONE say Ghanaian actor John Dumelo had a hectic time dealing with his fans at the Budumburam Camp at Kasoa Thursday afternoon.
The actor's celebrity status came to play at the camp where he went to shoot a church scene. Upon hearing of his arrival at the camp, several of the inhabitants rushed out of their houses to catch a glimpse of him, with some taking photographs of him and with him.

NEWS-ONE sources at the camp said John's attire was almost torn. "As soon as he got there, people surrounded the church where we were to film. He had to take some time off to interact with them. They nearly tore his dress," the source added.

John was not available to speak to the issue when contacted yesterday. He was probably busy shooting. He didn't answer his calls. John was on set with actress Ebi Bright and the new movie is directed by Phil Bernard.
It is normal for movie fans to want to interact and touch their stars. But it was exciting scene how John Dumelo was treated yesterday, according to the paper's source. "It was an indication that the movie industry is a strong tool to influence the course of our society. It was a good feeling to witness that scene."

John has not been in town for a while. He returned a couple of days ago from the United State of America, where he had been shooting his upcoming reality show. Prior to traveling to the stated, he was in Malaysia with actor Prince David Osei where they both picked awards at the African Entertainment Awards.
Source: News one