John Dumelo's fiery reply to netizen's query about deleted Yvonne Nelson post ignites social media frenzy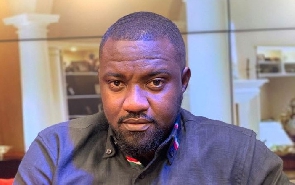 Popular Ghanaian actor and politician, John Dumelo, has responded savagely to a netizen, causing a stir on social media.
The incident unfolded when a curious netizen questioned John about a deleted tweet he had shared on June 19, 2023.

In the tweet, John revealed that someone from the presidency had approached Yvonne Nelson, to run as a candidate in the Ayawaso West Wuogon district.

The netizen asked, "Why did you delete this after tweeting?" referring to the post that read, "I remember @yvonnenelsongh called me sometime back before the 2020 elections to tell me someone extremely close to the current president had asked her to contest in Ayawaso West on the ticket of NPP. These were her words to me: 'John, I can't do that to you, I told them no. I can't throw away our many years of friendship because of politics.'"

Dumelo replied to the netizen, saying, "I saw the delete button...decided to use it."

This sharp response from the actor caught the attention of social media users, who quickly reacted to his witty remark while many praised his ability to handle such situations with humour and applauded his sharp wit.

In another related development, ahead of the launch of Yvonne Nelson's debut book titled "I Am Not Yvonne Nelson," it has been revealed that a close associate of President Nana Addo Dankwa Akufo-Addo had expressed interest in having Yvonne Nelson as a parliamentary candidate for the New Patriotic Party (NPP) in the Ayawaso West Wuogon Constituency.
Investigative journalist Manasseh Azure Awuni shared this revelation on Twitter on June 17, 2023.

Yvonne Nelson's activism has been viewed by many political critics as playing a significant role in President Akufo-Addo's election victory in 2016 after he had previously failed to win on two occasions.


I saw the delete button…. https://t.co/edIiUKXu3T

— Farmer John (@johndumelo) June 19, 2023
Watch the latest episode of Nkommo Wo Ho and E-Forum on GhanaWeb TV here:






ADA/BB