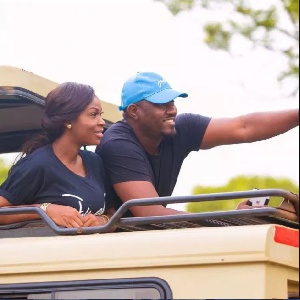 Today marks the birthday of Ghanaian awards winning actor, John Dumelo as he turns a year old.
The beautiful wife of the screen gentleman, Madam Mawunya has shared some lovely photos on Instagram with a very heartwarming birthday message to her husband.

Madam Mawunya being a good and caring wife expressed in her post how lucky she is to have John Dumelo as a husband as she tagged him as the best father and husband in the world.

She added that the actor is filled with thoughts of intelligent, hard working and has been a blessing to her and her family ever since she met him.
Madam Mawunya further prayed to soak her husband, Dumelo in the blood of Jesus that no evil can come near him in Jesus name.

She wrote on Instagram: "Happy birthday to the best father and the best husband in the world! We are so blessed to have you in our lives.my number one ally, my best friend, my prayer partner, my partner in crime You are everything to me.You are intelligent, hardworking, a charmer, funny,inspiring yet extremely humble…No fat, no cholesterol, and no additives added.This message is all natural.You are the best hubby in this world hands down

I love you @johndumelo1 with all of me ….Therefore I pray and soak you in the blood of Jesus that no evil can come near you in Jesus name. I bind and curse all orchestrations of the enemy and those who wish your downfall will live to see God's continual blessings upon your life. Amen".