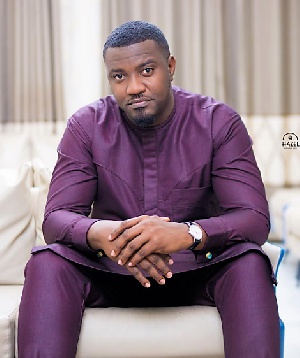 Damien, the JCR Organizer of Jean Nelson Aka Hall at the University of Ghana, Legon, the hall which has landed actor John Dumelo into some trouble with Nana Ama Agyemang, a radio presenter at Citi FM, has come out to launch a very strong defense for the J. Melo attire boss.
Speaking with Abrantepa on 'Brunch2Lunch' on Radio Univers 105.7 FM in Accra, Monday afternoon, Damien revealed that the decision to visit the rooms of the ladies was something they (as executives of the JCR) asked the actor to do. He added that John Dumelo's visit to the hall was part of their package they had planned for their vals day program at the hall.

Damien further disclosed in the interview monitored by zionfelix.net that the award-winning actor was specially billed as the only celebrity to make a pass through at their 'Epic Val's Day' program.
He also revealed that because many of the students failed to turn up in their numbers, the JCR decided to go round with him to the rooms of some ladies because most of the ladies were happy that he came around for the program.

Asked how he felt about Nana Ama Agyemang 's comments that Dumelo's visit was gross and predatory, Damien stated that the comments from the Citi FM presenter were needless and unnecessary.