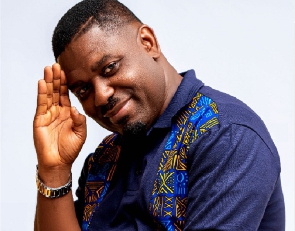 Gospel singer Nacee has composed over three popular campaign songs for Ghana's former president, John Dramani Mahama of the National Democratic Congress (NDC).
In his words, Mr Mahama is a big fan of his work and appreciates his creativity, reason why he continues to employ his services during presidential elections in Ghana.

Despite the controversies surrounding Nacee's campaign songs which many have termed as an endorsement, he details how it all began with the New Patriotic Party (NPP) under President John Agyekum Kufuor.

"I started with campaign songs way back in 2000, President Kufuor's time and I don't even recall the song...in 2008. I toured Ghana with Nana Addo. We were running under the slogan 'Believe In Ghana' with a host of musicians. It was Nana Addo who took me to Tamale for the first time," the singer disclosed in an interview with Kofi TV in April 2023.

His friendship with Mr. Mahama has birthed some of the most popular elections songs that have stuck on the minds of citizens.

"It was in 2012 when I became friends with President Mahama and it seems I was with both parties (NPP and NDC). In 2012, it was 'John Mahama Dey Be' and in 2016, we made 'Onaapo'. In 2020 we did 'Mahama Okada', I love cartoons and that inspired the song. It was a song I wanted kids to equally love...the words I said, in the beginning, don't have any meaning...one thing about Mahama is that he loves my creativity level. Mahama is a nice person who makes things flow. I will be so stupid to trade my friendship with Mahama for money or cars. They teach you how to fish," the versatile musician shared.






OPD/WA