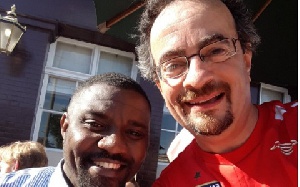 Former UK High Commissioner to Ghana Jon Benjamin and Ghanaian actor John Dumelo have been spotted having a drink together in London.
Mr Benjamin, who wastes no opportunity to troll Dumelo on social media, gifted the actor a V8 branded drink.

Mr Benjamin tweeted pictures of the two of them, saying: "So GH tweeps my very special guest just arrived from Ghana and here in my local pub to watch the football."

"I'm not at all sure that @johndumelo1 likes my present to him – a carton of V8 juice!".
Mr Dumelo was accused of stealing a state SUV during the Mahama administration. That was the genesis of the V8 trolling by Mr Benjamin.