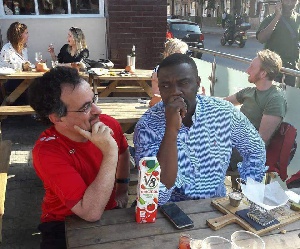 John Dumelo and his 'archenemy' Jon Benjamin have met in the UK for lunch as they take V8 vegetable juice. Surprised?
Jon Benjamin has consistently jabbed the Ghallywood actor and NDC politician over a V8 found in his care when power changed hands from the NDC to the NPP, as MyNewsGH.com has reported severally.

The two met and it looked friendly. No beefs.

They posed for the cameras with awkward postures though.
The picture has since been attracting comments.


I'm not at all sure that @johndumelo1 likes my present to him - a carton of V8 juice! pic.twitter.com/dRw8bpWCuP

— (((Jon Benjamin))) (@JonBenjamin19) July 11, 2018
So GH tweeps my very special guest just arrived from Ghana and here in my local pub to watch the football is ...... @johndumelo1 pic.twitter.com/lg08vAULU7

— (((Jon Benjamin))) (@JonBenjamin19) July 11, 2018