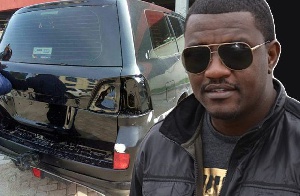 Former British High Commissioner to Ghana, Jon Benjamin took to Twitter to troll Ghanaian actor John Dumelo over claims he stole a V8 cross-country vehicle belonging to the state.
Mr Dumelo had earlier tweeted "I woke up at the dead sea, had lunch in Turkey and now landing in London. What a day"

But Jon Benjamin noted for his religious controversial tweets in response said "In London, If I see a freshly repainted V8 with its own private siren heading down the embankment, I'll give it a wave. Enjoy our city"

Later the actor said that will be him because he is picking the Queen of England up for tea.

"yep…..that's me. I'm picking the Queen for tea"
It would be recalled that a vehicle belonging to the state was in March this year retrieved from a spraying shop at Abelemkpe, Accra

It was alleged that the actor had taken to the shop to be re-sprayed but members of the task force insisted it was not his but for the state and subsequently seized it.

When news broke that one of the two V8 Toyota Land Cruisers classified as missing from the pool of state vehicles had been retrieved from John Dumelo at an auto mechanic's shop, he allegedly took to Facebook, a social media platform, to rubbish the publication, claiming that he bought the vehicle impounded by the state.