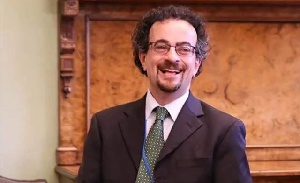 The former British High Commissioner to Ghana, Jon Benjamin, has revealed the one reason that will make him return to Ghana.
Jon Benjamin, who has often been hailed by some citizens on social media, as one of the country's 'best' foreign diplomats, was given a heartwarming sendoff in 2017, when his tenure ended.

Being an active user on Twitter, Jon Benjamin still regularly interacts with several Ghanaians as he still has lots of followers who look forward to responding to his tweets, especially those about Ghana. Earlier this week, one Twitter user asked the former commissioner what would be the only reason why he would return to Ghana, and Mr. Benjamin responded, "Seeing Obinim turn into a talking snake."

The response, obviously meant to be sarcastic, points to the diplomat's neverending attempts to poke fun at the popular prophet, 'Bishop' Daniel Obinim.
Jon Benjamin is known for possibly being the most socially interactive diplomat the country has ever had. He has been the face of trolls, sharp and sometimes heated debates with Ghanaians, and has given his very straightforward opinions on the issues in Ghana.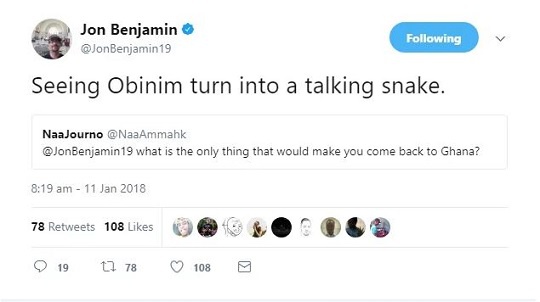 While some have called him out for being too 'nosy' when it comes to Ghanaian issues, others have been impressed with his dedication to being as open , opinionated and interactive with Ghanaians on social media, as possible.