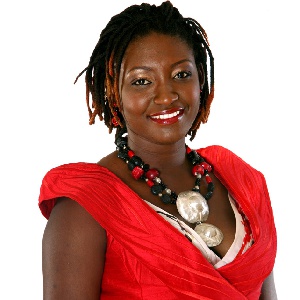 Filmmaker Juliet Asante at the special screening of her latest work Silver Rain revealed the movie was inspired by actual events.
"You can tell someone's story better than they can. So one of the best things you can do is tell your own story. So what we have done with this film is so many things; one is to tell our story to the world and to show what we are and who we are. All that informed our decision to showcase our beautiful environment, costumes and things that are peculiar to Ghana and Africa. Silver Rain is set in an African City. Not necessarily Ghana and casting from five African countries."

On what went into the movie premiering on March 13th, she said;

"I believe in show and not talking, so I tried to let the visuals do the talking. We cannot engage in art for art sake, film is such a powerful tool to communicate. But first of all, you must enter the theatre and have a good time. But after the good time you should ask yourself some questions. With Silver Rain people will walk out of the theatre asking questions."

Touching on her inspiration to tell this story, Juliet mentioned her meet up with a Kayayo made it all happen.

"This film started with me meeting a Kayayo girl and we made a preposition that I was going to spend three months with her after which we will enroll her into sewing.
"So we agreed the terms and my team and I followed her to her home in Walewale and it was an amazing story. Her father had forty children and she had left home when she was twelve and when we met her she was 17 and her family couldn't recognized her. When pleasantries were made her aunty walked towards her and asked her if she had seen her daughter. Basically when you come to the city, they forget about you. It was quite touching for us. She was always looking at us and we kept wondering what was going on in her mind. But when we got to Accra and wanted to end the deal and enroll her into the sewing, her friends told her to take the money instead. I was crying and told her to allow me change her life but she insisted her life was hers.

"We had to hand her the cash in Makola and seven months later she turned up in my office that she had been raped and was pregnant."

On her mission as a filmmaker she concluded;

"My duty is to engage your mind."

Silver Rain will premiere on 13th March at the Accra Mall and 14th March at West Hills Malls.