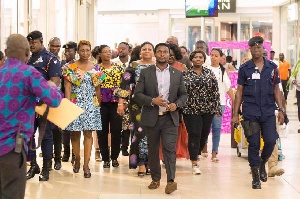 I am at a panel session, great conversation going on. A most important subject - content makers and broadcasters- I get a call, security check for the arrival of the 1st lady of Ghana to the cinema - H.E Mrs. Rebecca Akuffo-Addo. Today is the last day of Black Star International film festival, which takes place in Ghana every August.
My head whips down to my phone...damn! It is 2:30! The movie starts at 3 and they had said that she was on schedule... my heart pick up a pace. This is the second time I will be meeting her. The first time was still a daze. I could only remember how majestic she was. Regal is another word that comes to mind. She had said to me 'happy to meet you at last Juliet'

I whisper to Kunle Falodun, the V.P of Sony Distribution Africa, who had arrived the day before to speak on the distribution panel, to kindly pass on my bag and computer. His surprise registered...'You leaving?' He whispers back. In almost exaggerated slow motioned-like drama, I declare ' The 1st lady is almost at the cinema and I am on the other side of the cinema! I HAVE LESS THAN 30 MINUTES TO SCALE THE TRAFFIC AND GET THERE BEFORE SHE DOES... SHE IS USING HER MOTORCADE '...

As I bounced down the stairs, the long shadow falling on me tells me he is following. He has on an impeccable suit. Certainly not suitable for the beat up and certainly unwashed for a while Chevy I was driving! Another shadow joined him. My dear friend who had also flown in all the way from South Africa to attend the events. I was resigned to my embarrassment...

Any remnant of the emotion quickly evaporate as I realize that I now have barely 7 minutes to go round the circle and get to the other side. At the junction, there is a police car, but this is a risk I am prepared to take! I am shamed to say that I made a curve when it should have been a turning...

As I race down the street, I can see the men jump into the car and commence a hot chase. I did not want to alert my guest. They were in comfortable oblivion.
The weave and turns happen very briefly, but in what seems an eternity to me. As I take the entrance to the mall. The Police car stops and one jumps out... with a gun... 'hey! Stop the car and get down!' I fane innocence... eyes opened wide... looking dumb... I mutter... 'Sorry, you speaking to me? - why? what's going on?' ...

For a beat, I truly considered stopping, but then my eyes land on the clock and I lost any modicum of rationale. I step on the accelerator. The police man is as shocked as I am at this action. I incredibly manage a curve to my Lips as I turn to see the look on my fellow passengers faces, they are now in full understanding of the picture and by now they reckon that they are considered accomplices... one of them, Kunya, is a lawyer, I could almost see the wheel begin to churn.

The security detail is waiting for me at the entrance of the Shop-rite exit. 'She is almost here', is the only acknowledgment I get. As I fall into position, I notice that the now 2 officers that are pursuing me with guns, take a pause and divert course... it appears a curious moment, but I don't have the time to dwell...




As the plain cloth security gentleman takes a step back into the hall, I find myself blurting out 'please don't leave me, they will arrest me! ... - I imagine being bundled into the police pickup like a criminal. Kunya gives a short laugh that almost sounds like a yelp! I am not the only nervous one... and in her haste to assure, I suspect mostly herself, Kunyalala Maphisa starts on about about some legal terminologies that simply fly over my head. She goes on about how if it is a crime, 'they will have to arrest you now, at the scene of the crime... they can't.... By the way, Kunya is also an investor hoping to check out the investment climate of film in the country.
...I am distracted my the smile that breaks out on his face... 'beautiful smile' i barely have time to think... I also catch the phrase 'no you will not be arrested... he could have been an interesting area of study if i was in the mood to pay attention, but I wasn't!

The sound of Sirens engulf my brain... as her car comes to a halt, she steps out...I didn't imagine how majestic she is. With honor, I and my team at the Black Star International Film Festival welcome H.E the 1st lady of Ghana to the Silverbird Ghana to Watch the closing film ''A United Kingdom' by British born Ghanaian 'Amma Asante'. Amma had sent a short message to the audience. Giving the moment a surreal feel, as she explained how her own experience and that of her parents, growing up in her native Ghana (Gold Coast) had resonated with her and drawn her to the story, set in Botswana...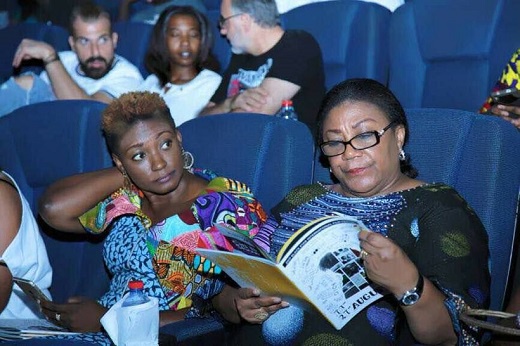 My palms tickle as the room goes dark. H.E loved the film she says... and she allowed us to buy her popcorn... what an experience. A #TrueBsiffMoment. #bsiff2017 - Juliet Asante - Founding President : BSIFF. Learn more about the festival at bsiff.org and follow us on FB. Let me take the opportunity to say thank you to the Government of Ghana, especially the ministry of Tourism, Arts and Culture, the Ministry of Communications and the National Communications Agency (NCA), UNESCO, UNDP and the BUSAC fund, CitiFM, YFM, Crystal TV, African Regent, the hardworking Jury, Advisory, Volunteers and all our sponsors and supporters... we couldn't have done this without you! learn more at bsiff.org or mail us at info@bsiff.org