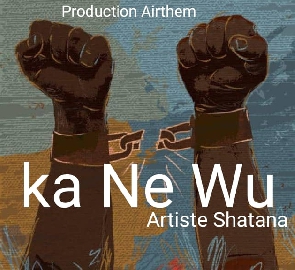 Ghanaian songstress Ranaya Pappoe, known in the media circles as Shatana continues on the path of churning out music that evokes sense of wokeness and call to national duty.
Shatana has released a new track dubbed 'Ka ne wu' which translates as 'say it and die'.

The song which is a danceable hi-life tune speaks about talking truth to power and being vocal about the issues that affect the country.

Shatana encourages people to speak out on issues that affect them as they would ultimately die regardless of their actions on an issue.

She highlights the importance of being vocal about issues as she warns that one could be a victim of someone's actions if he or she does not speak out against the said issue.

The song condemns widespread corruption in the country and charges Ghanaians to rise up and defend the country against the corrupt practices of people in authority.
She also paid tribute to Kwame Nkrumah, Patrice Lumumba and other persons who fought for equality and were voices of reasoning in the struggle for African freedom.

He urged Ghanaians to be expressive and join campaigns that will promote virtues and defend the good name of Ghana.

Watch the video below



KPE