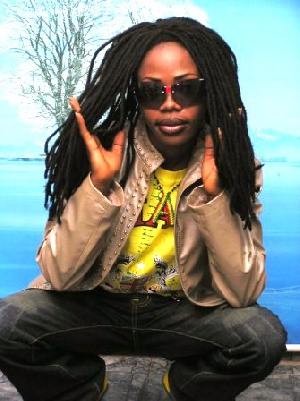 Fri, 21 Sep 2012 Source: Michael Wiafe, Hitz Fm
Ace hiplife artiste Dorcas Opoku Dakwa, popularly known as Abrewa Nana, has disclosed that current dancehall queen Kaaki has taken up the mantle after her.
Abrewa Nana made this statement when she appeared on the Hang Out segment on the Cruise Control show with Kwame B on Hitz FM.

According to Abrewa Nana, Kaaki was the new sensation when it came to female artistes in the industry, though all the other female artistes were doing well.

Abrewa Nana said Kaaki had it all because she was versatile. "Kaaki has got a strong and good voice and I think she will take Ghana to places if she given the necessary push".
Abrewa Nana further revealed that she fell in love with the voice the first time she heard Kaaki's song and asked herself where Kaaki had come from.

When asked what the craziest report she had heard about herself was, Abrewa Nana said she was shocked to hear that she was on hard drugs. She was quick to deny the said report and described it as a lie.

She disclosed that her album would soon be released because she was putting finishing touches to it in the studio.
Source: Michael Wiafe, Hitz Fm