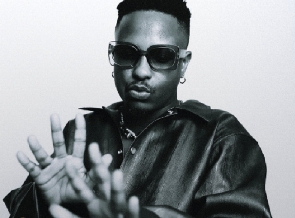 Ghanaian musician, Kelvyn Boy, has opened up about how he practices and maintains a good mental health.
Speaking on 3 Music TV's Culture Daily Live, the 'Down flat' hitmaker shared insights on how he keeps his mental health in check, outside the limelight.

While admitting that he doesn't have a therapist or a medical professional on his team, Kelvyn Boy disclosed that he has people to confide in.

"I don't have a therapist in my team or a medical professional but I have people I talk to and I have things that I do that are therapeutic," he asserted.

Some of the activities that Kelvyn Boy finds therapeutic and helps him rejuvenate are taking walks on the beach and watching movies.

"I go to the beach, it's therapeutic. I do watch movies. There are things I do. I definitely will go to the beach with someone, why would I want to go to the beach alone? I am not a fisherman," he added.
It can be recalled that in an earlier interview with Naa Ashorkor sometime in 2022, Kelvyn Boy disclosed that he sometimes pretends to be happy or cries in his bedroom just to maintain his sanity.

Watch the video below:


Watch the latest episode of Talkertainment below:




ADA/BB