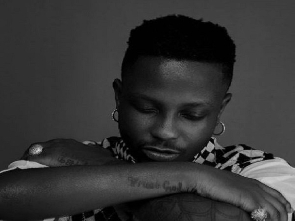 Kelvin Brown, also known as Kelvyn Boy, has voiced out his dissatisfaction with the Vodafone Ghana Music Awards (VGMA) and the selection process for award winners.
During an interview with Abeiku Santana, Kelvyn Boy said that he doesn't trust the awards scheme.

"I don't know. To be honest, we don't trust them. Even the Grammys, people don't trust them because they all hope to win," he said.

Kelvyn Boy, however, acknowledged that there are other artists with in the categories of Afrobeats/Afropop Artiste and Best Highlife Song of the Year who also have popular songs.

But he believes that if the organizers take a closer look and assess the nominees carefully, he should deservedly win the awards he is up for.

He also emphasized that everyone on the list of nominees in his category are deserving of recognition.

"I am not the only person with a popular song. There are a lot of songs that are popular, but if they take a careful look and give me the award I deserve, then they should give it to me," Kelvyn Boy said.
Watch the latest episode of Talkertainment below:



Watch Nkommo Wo Ho below:





ADA/AE