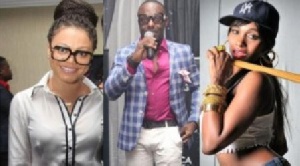 It is usually when things are tough that people remember God. Nadia Buari may be smiling that she has found her right man but she should learn from her predecessor.

Keturah Hamilton has been in pains, reading, seeing all the activities of her ex Jim Iyke with his new lover Nadia Buari on the internet.


While she has given up on bad boy Jim Iyke, she resorted to being her own comforter. On the 13th of May, she tweeted that, "tough times never last, tough people do."


The pain was so unbearable, she could not sleep so she tweeted the next day early morning around 2:49AM being the 14th may, "we met for a reason; either you are a blessing or a lesson."


And it came to pass that Keturah Hamilton resorted to divine intervention to know for real if all these stress and heartbreak is worth it. Ask and it shall be given you, behold she got an answer. She prayed the entire time by 2:14 PM the same day, she tweeted again, "I prayed to the Lord. He answered my prayer, and took my worries (Jim Iyke) away."


Keturah Hamilton has been delivered from Jim Iyke, he is now free to hold hands with Nadia Buari like he did at the 2013 VGMA and follow her to her house according to a close friend to the two.


Despite her worries vanishing, the thoughts of Jim Iyke dealings with her still lingered. Check out her other tweets and judge for yourself.

"Whoever digs a pit will fall into it, and he who rolls a stone will have it roll back on him" 7:55pm – 17 May 13


"God is setting me up for the greatest feast ever, right in front of my enemies" [Jim Iyke & Nadia Buari?] 2:47am – 18 May 13


"If u prayed for my down fall u should get your refund back! I declare no weapon formed against me shall prosper# Amen" 5:42pm – 18 May 13


She decided to advice Nadia to be careful of Jim Iyke, "never sweat over something that's not officially yours…" 1:12am – 20 May 13


Before now, in case you missed anything, read here